Feel free to come to any one of our general monthly meetings to find out more about us.
All members are required to join B.A.S.S. – Bassmasters ($27 USD) prior to joining a local club. Membership in B.A.S.S. comes with a number of benefits including a subscription to Bassmaster magazine, membership kit, monthly prizes, tournament and B.A.S.S. Nation eligibility, and membership discounts.
For us Canadians: Follow the steps to Join B.A.S.S. from the main page. Next, select Click here if you are Canadian. Choose Join B.A.S.S. under New Members and you should see a form like below: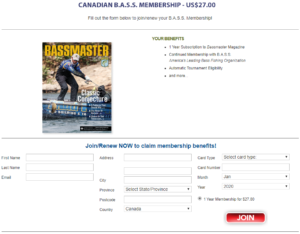 Present yearly Forest City Bassmasters Club fees are $75.00 (New for 2022). $32 USD (~$40 CAD) of this fee goes to B.A.S.S. and $15 CAD goes to Ontario B.A.S.S. Federation Nation to cover administration costs, insurance, support for Team Ontario etc. $10 goes to the annual Angler of the Year prize pool. The remaining monies (~$20.00 depending on exchange rates) goes to Forest City Bassmasters for club activities and expenses.
Affiliate memberships, for members in good standing of other Ontario BASS Nation clubs (i.e. another club is their primary club), are also available for $30.00 CAD.
High School aged memberships are available for anglers 16 years and over ($40.00 – covers BASS Fee). Anglers can fish regular member tournaments at 16 years of age. Younger anglers are welcome to come to club meetings with guest speakers at no cost.
Liability waivers must be submitted for all members (click to download). Members under 18 years of age must have this waiver signed by their parents/legal guardians.
You must have a valid Sportsmen Class Ontario Fishing License (not Conservation Class). A Boater Card is recommended for non-boaters as well. For those of you with a boat, boats must be 16 feet long (14 ft acceptable for smaller venues at TD's discretion), have a working live well and meet all current provincial safety regulations. Proof of $1,000,000 liability insurance ($2M Recommended) must be provided to FCBM prior to tournament use.
You do not need a boat – just a rod, some tackle, and a little passion and love for the outdoors and willingness to learn. Non-boating members will be randomly paired with boating members for tournaments. Costs (fuel/boat launch fees/entry fees, etc.) are split 50/50 between the boater and co-angler.