Congratulations to Don Kraemer, our 2016 Forest City Bassmasters Angler of the Year winner. Don had a solid and consistent year registering four 2nd place finishes for a total of 380 points and tied in points with Mark Biesinger who registered a win, two seconds and a third place fish. Don squeaked ahead in the tiebreaker by a tenth of a pound for title. Solid year Don!
A shout out to our fishing ironmen and ironwoman, Kevin, Alicia, T.J. and Nate who participated in all 8 bass tournaments we held. Scott, Ian, Rick and Don participated in 7 of them.
We had good sized tournament fields throughout the year and no cancellations due to weather or lack of signups. Our smallest tournament was Fanshawe Friday Evening held in midsummer at 5 boats, then Wildwood Wednesday Evening with 7 boats, Lake St. Clair and Conestoga at 8 and our Rondeau Bay Opener at 9. For our Open tournaments, on Thanksgiving Day at Wildwood we had 10 boats, Canada Day at Fanshawe had 14 boats, Labor Day at Wildwood with 19 boats, and the Pike tournament at Wildwood in May with an awesome 29 boat field!
Congratulations as well to our 2016 High School Angler of the Year – Zach Beacham. Well done Zach, looking forward to having you fish with the regular members next year!
2016 Angler of the Year Results
Best 4 of 8 tournaments, heaviest big fish as tiebreaker.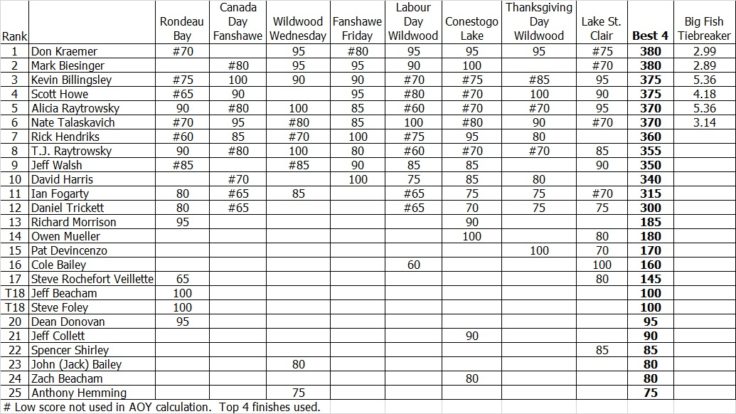 2016 High School Angler of the Year Results