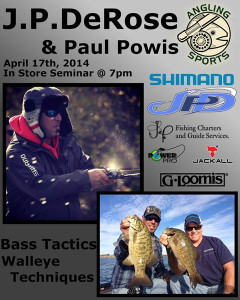 Angling Sports is hosting J.P. DeRose and Paul Powis on April 17th at 7 pm. The seminar will include bass and walleye tactics and techniques. All are welcome.
Bios:
In 2005, JP DeRose decided to step into Canada's highest level of fishing competition by entering the Pro-Am circuit as a boater after only 5 years of competing in small tournaments, winning Rookie of the Year in convincing fashion. In 2006, WFN: World Fishing Network was created and filmed the Pro-Am Series. In an interview, JP was a natural in front the camera and represented WFN for that season as their sponsored pro. Winning the 3rd tour stop that year, JP quickly adapted to being in front of a camera and was sent to iCast to try his hand at interviewing which quickly led to his own show, a WFN original production called Getting School'd with JP DeRose. Now in its 4th season, Getting School'd has become an authority on new gear and instructional fishing. Dedicating his free time to the Canadian Bass Anglers Federation, JP has held the position of club president for the past 7 years and continues to grow his chapter dedicated to developing fishing at a grass roots level. With over 130 top 10 finishes and 30 wins in tournaments over the past 11 years, JP's primary focus aside from Getting School'd and competing in tournaments is to help people become better anglers through seminars, breaking down the techniques and tactics that lead to angler versatility and success.
Paul Powis from J&P Fishing Charters is a Ministry of Natural Resources Licensed professional guide with 21 years of experience behind him. Paul runs charters on Lake Erie for a variety of species.