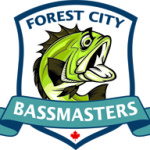 Affiliation Letter: Forest City Bassmasters
Attention: Ontario B.A.S.S. Nation
The Forest City Bassmasters wish to remain with the Ontario B.A.S.S. Federation Nation (OBN) for 2018.
Forest City has seen steady growth since its founding in 2014 and now has 35+ members. Our focus continues to be on learning and providing our members the opportunity to participate in a variety of well-run tournaments. Members can choose from multiple flavors of tournaments that include a mix of waterbodies from small lakes and reservoirs to the Great Lakes, evening outings to full day events, and club only, interclub and open to public events. This year we're expanding our interclub tournament activities in conjunction with Erie Bassmasters, KWC Bassmasters and others and plans include hosting events at Turkey Point (Sept. 23) and Mitchell's Bay (late Oct.).
Conservation activities include participation in club member Richard Elliot's highly successful work of placing mini salmon egg hatcheries in elementary schools. We are also looking to join the "Pledge to Pitch It" program this year.
Our one high school member last year joined up with KWC HS Bassmasters activities and had a successful season with them including fishing the two-day High School Championships on Lake Couchiching.
We are looking forward to an exciting and fulfilling year in 2018.
Sincerely,
Mark Biesinger, President
Forest City Bassmasters